Follow this link for information regarding statewide student assessments and/or commercially-developed standardized assessments that will be administered over the course of the school year:
https://5il.co/1iiqo
If your student has not been formally photographed, and you wish for your student to appear in the 2023 yearbook, we urge you to make an appointment as soon as possible. In-school appointments are available October 5th and 6th. You may schedule by calling Customer Service at 908.964.8200 or visiting
https://myschedule.lorsstudio.com
. If your student would like to make an appointment on your own time, Lors Photography has a satellite studio in Springfield that the students can make appointments to go to. You must call or email customer service to get on the schedule at 908-964-0847, or
customerservice@lorsstudio.com
. Please get your appointments scheduled as soon as possible. Please email Mrs. Rotella with any questions or concerns:
rachael.rotella@woodbridge.k12.nj.us
Attention JFKMHS Class of 2023! Follow this link for more information on scheduling Senior Portraits:
https://5il.co/1a5ka

Check out the WTSD Diversity, Equity, & Inclusion Showcase being held on June 2nd!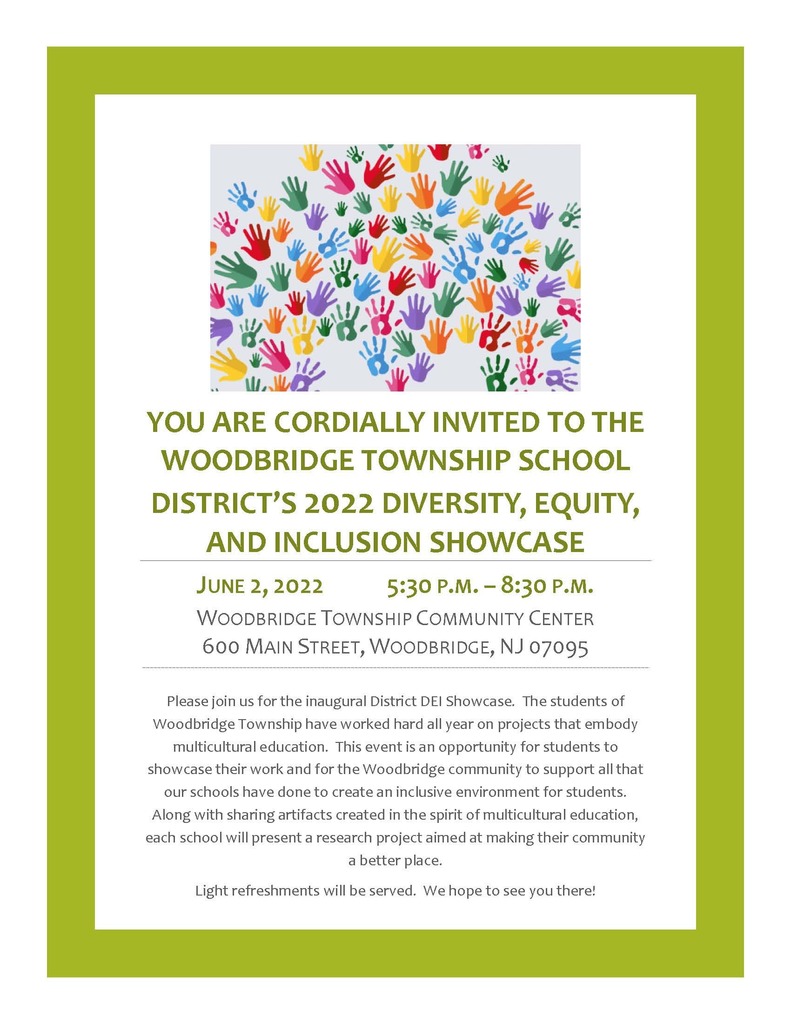 Attention JFKMHS Students: Follow the below link to order your 2021-2022 Yearbook!
https://www.yearbookordercenter.com/
The code to order is 21520 and online sales are available through 5/26/22.
The JFK American Cancer Society Club is hosting a fundraiser at Buffalo Wild Wings all day TODAY! 15% of your total bill will be donated to our organization when you show them this flyer. Thank you in advance for your support!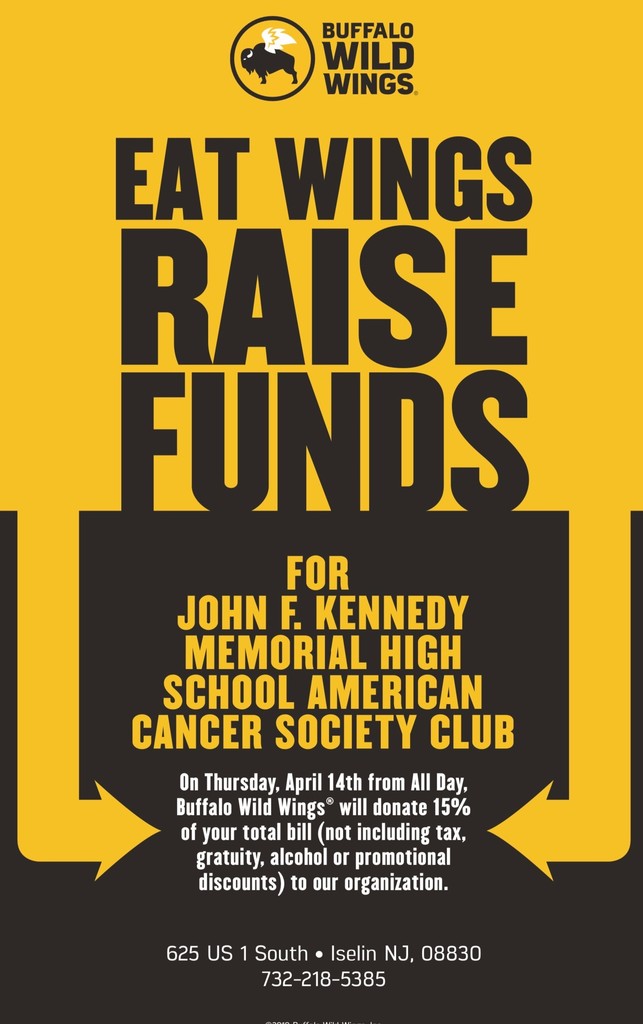 Please follow the below link for more information on the PFF Gift Auction to benefit Project Graduation, April 30th, 4PM.
https://5il.co/18d3p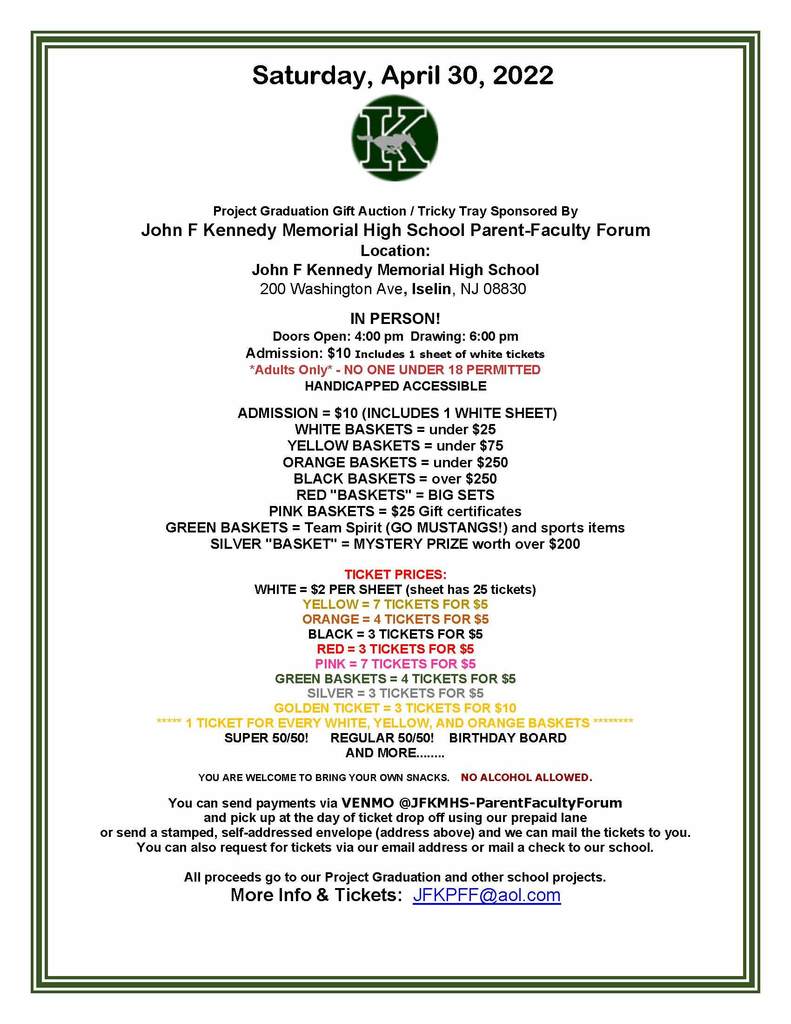 The annual JFKMHS Gift Auction is back and set to be held Saturday, April 30, 2022. Parents, read on to find out more! JFKMHS Parent Faculty Forum Gift Auction Fund Raiser to Support Project Graduation - What is it? CHECK IT OUT! -
https://5il.co/17i8c
Want to help? JFKMHS Gift Auction Volunteers - READ THIS!! -
https://5il.co/17i8d
SAT TESTING UPDATE @ JFKMHS: Beginning this Saturday, March 12, 2022, masks will be optional during the SAT administration at John F. Kennedy Memorial High School. Any student who wishes to wear a mask may do so. We will still have hand sanitizer available and regulate the number of students in bathrooms. The cafeteria will also be open to students who feel uncomfortable taking off their masks for a snack in the testing room. Masks will continue to be optional for future SAT administrations as long as the mandate remains lifted in New Jersey.
The Woodbridge Public Library will be hosting a virtual program on "The Ultimate Guide to Medical School" on March 3rd at 7pm. To learn more about the program and to register, please refer to the attached flyer.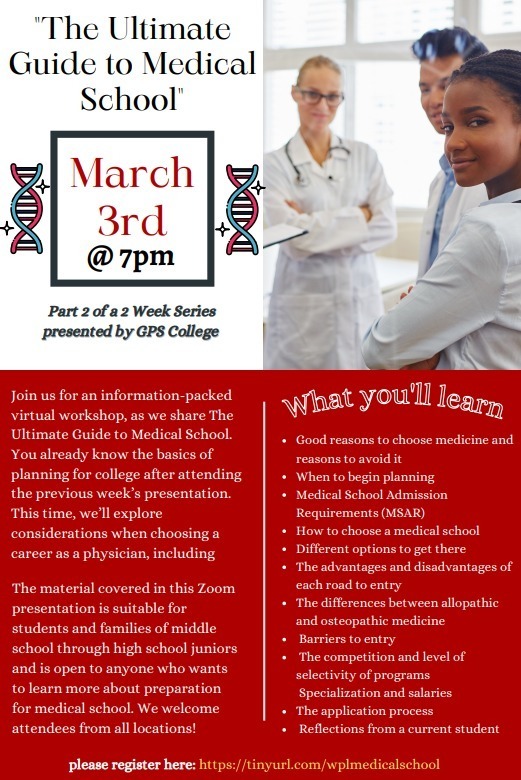 The Woodbridge Public Library will be hosting a virtual program on "Taking Chare of College" on February 24th at 7pm. To learn more about the program and to register, please refer to the attached flyer.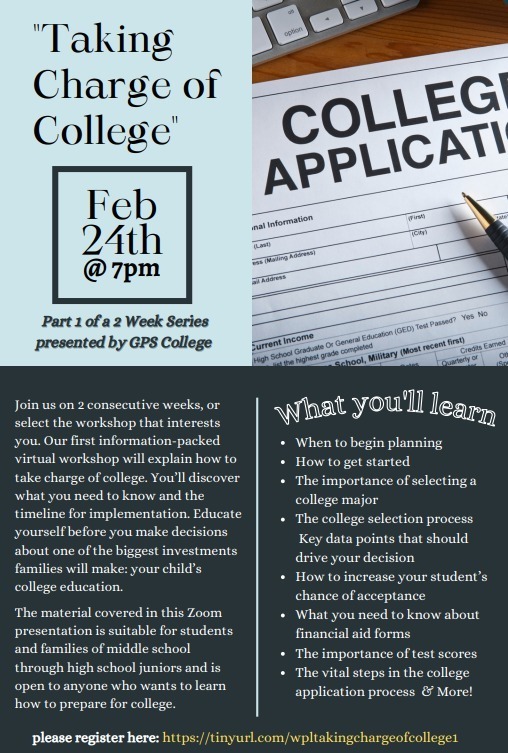 Check out the Virtual Career Exploration Fair on Feb 24th!

Course requests can be completed via Genesis Parent Portal from Friday, January 21st through Friday, February 4th. If you have any questions in regards to the course requests process, timeline, or course offerings, please contact your guidance counselor.
ATTENTION: The Parent Faculty Forum Meeting scheduled for November has been CANCELLED. -JFKMHS PFF Executive Board
JFKMHS Faculty and Staff would like to welcome Dr. James Parry, our new building Principal.
This is just a friendly reminder that there is a Parent Faculty Forum Meeting tomorrow evening, October 5th, @ 6:00 p.m. We hope to see you there! -JFKMHS PFF Executive Board

Don't forget, tonight is Homecoming! We hope to see everyone there!

ATTENTION ALL SENIORS!!! Don't forget to join us at 7:00 PM tonight for College Night!

Our Parent Faculty Forum will be holding its Annual Opening Meeting tonight from 6:00 - 6:30 PM in the auditorium. Please also remember that in order to accommodate our community this evening, we are requesting that only 1 parent attend for each child enrolled at tonight's Open House.
Parents/Guardians: Please check your email or follow this link:
https://5il.co/y53
, for an important update from Mr. Postorino.