EDIT MAIN
Science Fair
Dear Parents, Guardians and Students,
Menlo Park Terrace School 19 will be having our first Science Fair on Tuesday, April 28 2015. All 4th and 5th grade students will be participating in this event. The teachers will be covering the scientific process/method in class and discussing projects that will be completed mostly in school.
The objectives of our science fair are as follows:To give students practice in applying the scientific method and problem solving
To enhance students interest in science
To reinforce and ensure compliance with the NJ Core Curriculum Standards for Science
To provide an incentive for the development of talent in both scientific and technical fields
To give all students an opportunity to achieve success in science by utilizing a hands on approach
This is a mandatory project for all fourth and fifth grade students. Accordingly, all students will receive and major science grade for the project. All students will receive Certificates of Participation.
In addition to providing students with practical research skills, science fairs provide students with an opportunity to participate in an enjoyable hands-on activity in an area of interest outside the classroom. This is a graded assignment that requires students to apply the scientific skills and to develop their critical thinking abilities. Please encourage your child to do their best. More detailed information about projects assignments will be distributed directly to the students. If you have any questions, please do not hesitate to contact your child's teacher at any time.
Thank you,
Ms. Petro & Mr. Reed
SCIENCE FAIR PROJECTS FOR KIDS
http://www.mpmschoolsupplies.com/ideas/science-fair-projects/
DISCOVERY SCHOOL SCIENCE FAIR CENTRAL
http://school.discoveryeducation.com/sciencefaircentral/?pID=fair
SCIENCE FAIR PROJECTS WITH COMPLETE INSTRUCTIONS
http://www.all-science-fair-projects.com/
http://scienceclub.org/scifair.html
http://pbskids.org/dragonflytv/
http://www.sciencebuddies.org/
http://www.sciencebob.com/index.php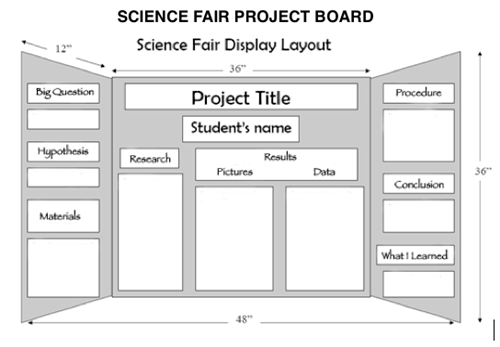 SCIENCE FAIR RUBRIC
| | | | |
| --- | --- | --- | --- |
| Requirements | Possible Points | Students Evaluation | Teacher Evaluation |
| Use of the Scientific Method | | | |
| Question / Purpose (only ONE variable) | 10 | | |
| Research | 10 | | |
| Hypothesis | 10 | | |
| Materials | 9 | | |
| Procedure | 10 | | |
| Results (Graph) | 10 | | |
| Conclusion | 10 | | |
| Following Directions | | | |
| Following all directions given | 5 | | |
| Cooperation in group | 5 | | |
| Thoroughness & Detail | | | |
| Correct Spelling, Capitalization, Punctuation | 5 | | |
| Use of Technology | 5 | | |
| Creativity | | | |
| Project choice | 3 | | |
| Title | 3 | | |
| Neatness | | | |
| Display-Color, shape, shading, cutting, gluing, and other qualities | 5 | | |
| Final Grade | 100 | | |