EDIT MAIN
Bucket Filling For Parents

We have a character development program called Bucket Filling. Bucket filling is an easy-to-understand concept: Everyone carries an invisible bucket that holds our good thoughts and feelings. When our buckets are full, we feel happy and when our buckets are empty, we feel sad.
Children quickly understand that they can fill buckets when they do and saythings that are kind, considerate, caring, and respectful. They also learn that whenthey are mean, inconsiderate, uncaring, or disrespectful, they dip into buckets and remove those good feelings. Even the youngest child understands that actions and words can either fill a bucket or dip into it.
During this school year we are encouraging, reminding, and recognizing everyone's efforts to be bucket fillers at home, at school, and everywhere they go. We are excited about this new program and look forward to your support. If you would like to learn more about bucket filling, visit the Bucket Fillers website, www.bucketfillers101.com.
Bucket Filling for Adults: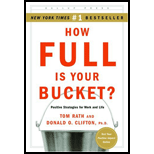 "How Full is You Bucket?", written by Tom Rath.
How did you feel after your last interaction with another person? Did that person -- your spouse, best friend, coworker, or even a stranger -- "fill your bucket" by making you feel more positive? Or did that person "dip from your bucket," leaving you more negative than before? The #1 New York Times and #1 Business Week bestseller, "How Full Is Your Bucket?", reveals how even the briefest interactions affect your relationships, productivity, health, and longevity. Organized around a simple metaphor of a dipper and a bucket, and grounded in 50 years of research, this book will show you how to greatly increase the positive moments in your work and your life -- while reducing the negative. Filled with discoveries, powerful strategies, and engaging stories, "How Full Is Your Bucket? ", is sure to inspire lasting changes and has all the makings of a timeless classic.